My name is Emily and I have an addiction…to dresses.
Seriously, I have bought 7 dresses in the past month. SEVEN! Let me try to justify my recent purchases. We are going away for our first anniversary trip soon to a resort, so I needed a couple new dresses to wear out at night for dinner. And like I mentioned in my wedding post last week, we have 4 other weddings to attend this summer and fall, so I was also trying to find dresses that would be fancy enough. I also was looking for a new beachy sort of cover-up that I could throw on over a bathing suit. I can wear pretty much anything to work (very casual on Fridays), so I should be able to wear most of these there.
First up are the most casual dresses I found:
Merona® Women's Sleeveless Dress w/Drape - Navy/Grey from Target
This does not look so hot on that model…not trying to be mean, but I think the dress is a little more flattering on me because I have more of a chest to fill it out :) Or at least I hope it looks better! It's the perfect material for warm weather. Best part – it was $20. Love Merona brand at Target. Next up…
Women's Smocked Jersey Tube Dresses from Old Navy
Old Navy was advertising their dresses on sale this week, so I stopped by. I found the tube dress for $15, but I bought a bright, pretty teal color (I guess it's not available online). It's a great cover-up. While I definitely can't wear this to work, I can use it for more casual weekend things in the summer. Now let's head over to my favorite store…
Mini Polka Dots Two-In-One Dress from New York & Company
You can't tell from the picture, but the top has cute little black polka dots all over. It's a really comfy dress and one of the few dresses that actually looks okay with a high waist on me. This should be a good work dress. I received a coupon a couple weeks ago to take $30 off when you spend $75 so I headed on over to the mall during a lunch break. Everything in the store was also buy one, get one half off, so I only spent about $60 total for the above dress and the dress below…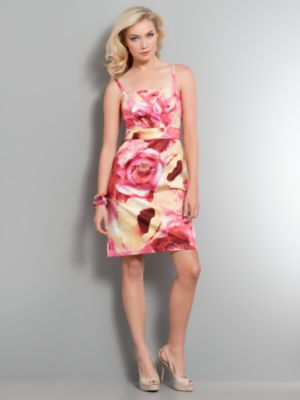 Abstract Floral Dress from New York & Company
I can't wait to wear this on our trip and also to a wedding this year. This is probably the sexiest dress I own…and it means I need to get my arms in much better shape before I feel totally comfortable wearing it! The straps are removable so I'm debating whether I'll wear them or not as it does have pretty good support for being strapless. One of my other favorite stores also had a couple winners:
Elle Floral Ruffle Chiffon Dress from Kohl's (picture from Kaboodle)
So it doesn't look like this dress is available at Kohl's anymore online. I originally bought it for $45 about a month ago in a purple/gray shade. It was nice but I wasn't sure about it. I ended up returning it and then found it cheaper online and got free shipping so I saved close to $20. I bought the new one in the coral/pink shade shown above and love it much more; it's very vibrant and a good dress for summer. I think this will be okay to wear to work, as well. I also found another dress at Kohl's:
Ruffle Empire Dress from Kohl's
This isn't the actual dress I bought, but it's really similar, as it looks my dress isn't available now. My dress has the same ruffle in the front with an elasticized waistband and it's a darker navy color. The one I bought was probably about $22. Another good dress I can wear to work and maybe a bridal shower.
And last but not least…I found a really cute one at the Outlets last weekend. It's from the Loft Outlet and unfortunately there's no picture of it to be found online. It was my splurge at $50 but it's a gorgeous dark teal with a rose print. The best part is that it makes me feel thin - I really can't wait to wear it. It's perfect for our trip and to wear for a wedding, but just a little too low cut to wear to work.
So all together I spent about $200 for 7 dresses = about $28 each. Sigh…I really need to stop, even though I found another cute dress at NY&C today. Ugh I need to remove myself from all these mailing lists so they stop sending coupons to my email!