I saw this picture on one of the craft blogs I follow and fell in love instantly:
These were made using the plastic showcase boxes meant for Beanie Babies! It's too bad I didn't have more of those boxes or else I would definitely copy these.
As I as thinking more about this craft, I realized I didn't need 3 separate holders as I already have a couple bamboo ones in the kitchen. I decided I only needed 1 extra for now. I have tons of circular vases left over from the wedding centerpieces, and since they were only $1.00 a piece (love the Dollar Tree), it would be okay if I messed up a couple if this craft didn't go how I planned :)
Here is my version…definitely smaller than the inspiration pic above, but the size works in our kitchen. Maybe someday when we buy our forever house, I can copy-cat the white box versions.
It is made with a circular vase, scrapbook paper, mod-podge glue, double-sided tape, and burlap. Since I already had the mod-podge, tape and burlap from other projects, I only needed to purchase the paper which was already on sale at JoAnn's. I was so excited to find the yellow kitchen-themed paper – it goes perfectly with the browns and green tones in our kitchen now.
This was a very easy project. Basically you start by measuring the paper to fit around your vase (I started with a full piece of the brown paper first). I used the double-sided tape to stick the paper to the vase and taped in three different places so the paper stuck evenly around the entire vase.
Then I used the mod podge and painted the entire outside of the vase so all the brown paper was covered. Once that dried, I measured the yellow paper to fit the vase and followed the same process with taping the paper (it did stick pretty well to the mod-podged brown paper). Then I did a second layer of mod podge, waited for it to dry, and then cut some burlap strips to go around and cover the edges of the yellow paper.
I'm pretty happy with how it came out :) You can see the edges of the paper in the back but since it will be facing the kitchen wall, no one can see that. Here it is with the rest of my kitchen stuff:
The bamboo holder with the silver top is one I'm thinking of replacing…I like my homemade holder better as it's a bit taller so it's perfect for all the serving spoons we have. I think it will also look better if I had two matching homemade holders and then the larger bamboo holder that I LOVE from Crate and Barrel. Yay for more storage!
Sharing at: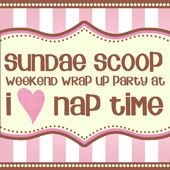 Tatertots & Jello Weekend Wrap-Up
Someday Crafts Whatever Wednesday