We have been on a serious smoothie kick lately…it's an awesome way to get in half of your fruits for the day, along with protein from milk and/or yogurt depending on the recipe. The ones we were making earlier this week included frozen strawberries, blueberries, and bananas. Last night I had the brilliant idea to try a peanut butter banana recipe which I knew hubby would love :)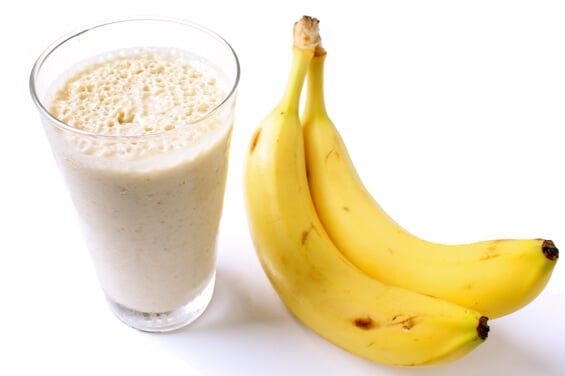 I'm not really a banana fan and I prefer the flavor more than eating the actual fruit itself, but when I was little, I would enjoy them as long as there was a side of peanut butter to go with. For this smoothie recipe, I didn't take it from any particular source - I looked through a few food blogs but generally it's the same idea. The source for the picture above has a similar recipe but suggests using 3 bananas…that's just too much banana for me! Here's our version:
Ingredients:
- 1 banana (sliced and frozen)
- 8 ice cubes
- 1 cup non-fat vanilla yogurt
- 1/2 cup vanilla soy milk
- 3 tablespoons peanut butter
Let's make a smoothie!
1. Put all ingredients into the blender (does not matter in which order).
2. Blend on high speed for 2 minutes or until completely mixed.
3. Pour in a glass and enjoy!
This recipe made two 16 oz glasses – filled them about 3/4 of the way each. You may need to do a few less ice cubes and 1/2 cup yogurt instead if you just want one glass. I wanted the smoothie a little sweeter, so I did a few drops of pure vanilla extract. Other recipes I saw suggested using honey. Also – we bought natural peanut butter this week and it's a little more liquid-y but we both really like the taste of it. It's perfect for blending since it's not as thick.
This is probably my favorite smoothie so far because it was more like drinking a milkshake and it's still totally healthy for you!